In November 2014, I-DEV released its report analyzing the value created by impact incubator/accelerator programs. This report was funded by the ANDE Capacity Development Fund, and co-developed in partnership with Agora Partnerships, an impact accelerator focused on Latin Ame­rica.
This analysis included over 100 interviews and surveys with stakeholders from 8 impact-focused incubator/accelerator programs, 54 enterprises that had participated in the incubator/accelerator programs analyzed, and 18 active impact investors.
Key research objectives were to:
Evaluate the quantifiable value created by impact-focused incubator/accelerator programs
Design and pilot a framework that can be used to objectively compare and benchmark impact incubator/accelerator programs against each other
The study is a continuation of ANDE's research to assess the current and potential value created by impact incubators/accelerators, an initiative launched in 2012. This analysis builds on ANDE's previous findings and was conceived as a means to evaluate how and where incubators/accelerators are creating tangible value. One of the initial goals of the study was to help programs develop quantifiable evidence they need to make a stronger case for charging incubees and investors for their services and the value they create; however, a full quantitative analysis was limited by several key obstacles. Most notably, at the time of analysis, few programs tracked consistent and comprehensive data on their alumni or investors they work with (even basic financial data and investments received or sourced via the program).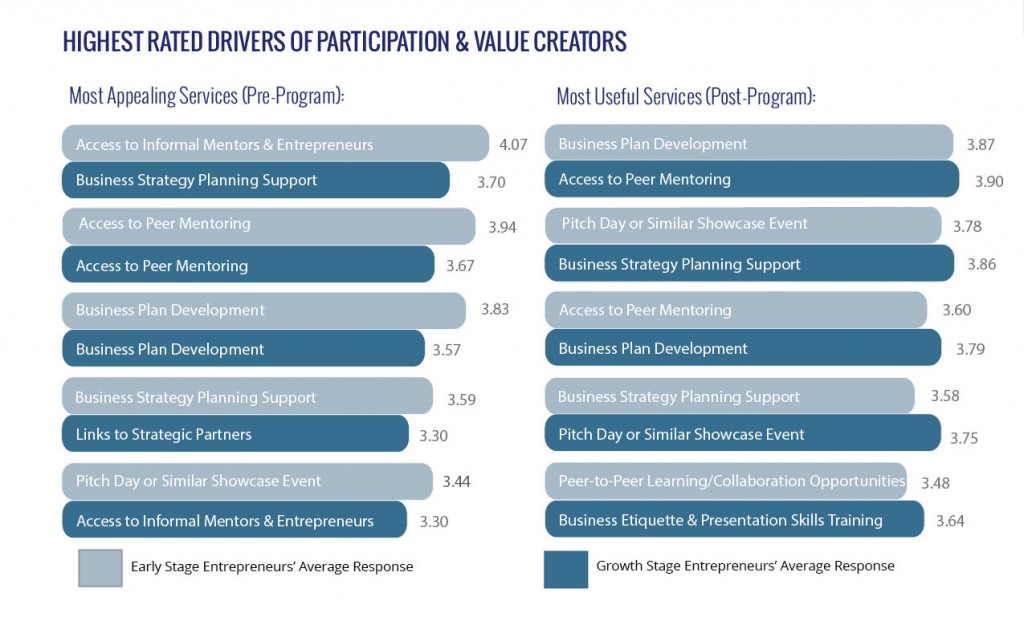 While results only reflect a limited sample set, some general observations were that participants- both early stage and growth stage- found greatest value in more general business support services, including peer-to-peer networking, business plan and strategy support and networking with sector players. The chart above shows how incubees rated a series of services based on drivers of participation as well as their satisfaction with various services. Separately, both early and growth stage enterprises noted that they were generally disappointed in the investment readiness and capital raise resulting from the program. Investors also noted a similar disappointment with only one Growth Stage Investor reporting deal flow sourced from an incubator/accelerator as compared to 5 or 50% of Early Stage Investors who subsequently invested in an a company who they sourced through an incubator/accelerator.
You can also access the full report on ANDE's website.
Update:  See the Forbes article written by Anne Field on this report!