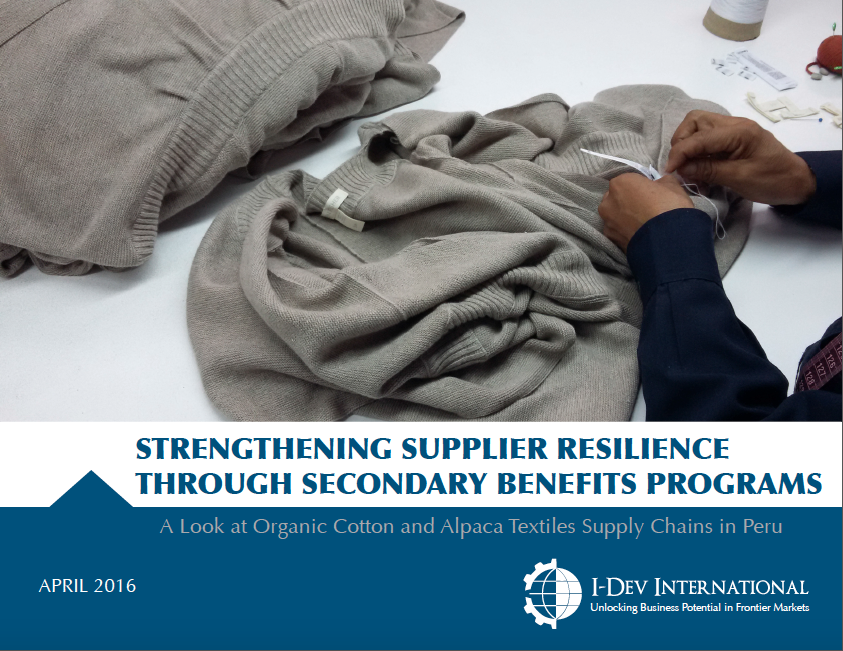 Secondary Benefits Programs (SBPs): Strengthening Supplier Resilience
663 Downloads
April 2016
In collaboration with Eileen Fisher and Indigenous Designs, two leading sustainable apparel companies, I-DEV developed a framework for creating Secondary Benefit Programs (SBPs) to strengthen emerging market supply chains. The report highlights findings from conversations with key players in the sustainable fashion industry– from farmers, herders, and artisans on the ground to end retailers in the US– and showcases two key case studies in the organic cotton and alpaca industry to demonstrate how SBPs can increase supplier resilience, loyalty and performance.
This infographic, released in Fall 2015, summarizes how benefits programs for alpaca and cotton farmers, as well as local artisans, can be designed and integrated throughout the apparel value chain to create strategic impact for all parties involved. Click here to view!
The final report provides a clear framework for assessing the needs and drivers of actors in emerging markets supply chains, in order to guide global companies to maximize business value and create more systemic and scalable impact across sectors.