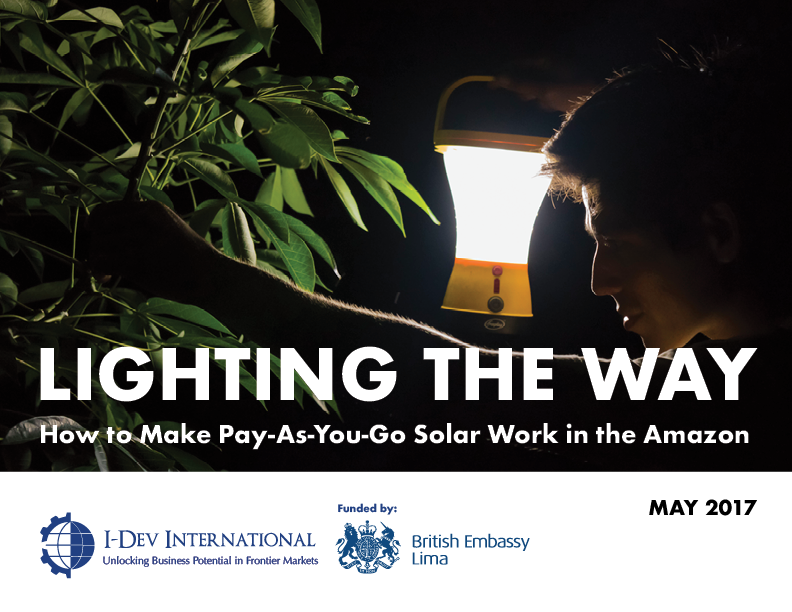 Lighting the Way: How to Make Pay-As-You-Go Solar Work in the Amazon
May 2017
In collaboration with the British Embassy, I-DEV designed and tested a business model to overcome the challenges of addressing demand at the last mile and support the adoption of renewable energy as a cheaper and cleaner source of lighting in the Peruvian Amazon. This report shares the insights and lessons learned based on our own experience and that of our strategic field partners, as well as interviews with end users and key value chain stakeholders.
---
#LATAM Digital: Tech in Latin America
November 2016
The second release in I-DEV's Insights Series, this report explores Latin America's growing digital economy and key opportunities to unlock further value across the continent– particularly in how people make payments, do business and access capital in countries including Colombia, Mexico, Argentina, Chile, and Peru. Follow trending coverage on Twitter at: #LATAMdigital
---
Secondary Benefits Programs (SBPs): Strengthening Supplier Resilience
April 2016
In collaboration with Eileen Fisher and Indigenous Designs, two leading sustainable apparel companies, I-DEV developed a framework for creating Secondary Benefit Programs (SBPs) to strengthen emerging market supply chains. The report highlights findings from conversations with key players in the sustainable fashion industry– from farmers, herders, and artisans on the ground to end retailers in the US– and showcases two key case studies in the organic cotton and alpaca industry of how SBPs can increase supplier resilience, loyalty and performance. 
---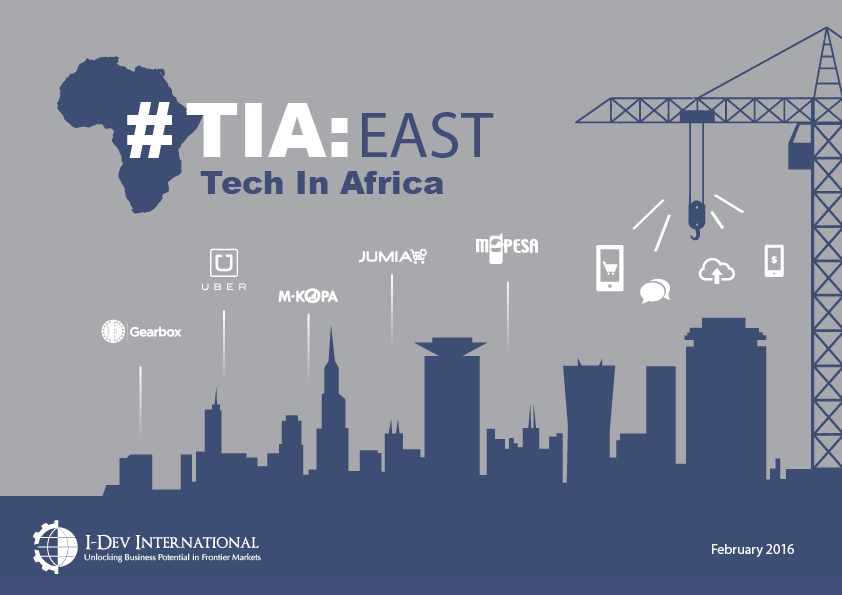 #TIA East: Tech in Africa
February 2016
In this report, I-DEV dives into East Africa's burgeoning tech sector with insights from over 30 leading experts, including Safaricom, Savannah Fund, mi-Fone, Uber and more. This is the first release in the I-DEV Insights Series, focused on unfolding the latest market trends and innovations in frontier markets across the globe. Follow trending coverage on Twitter at: #TIAeast
---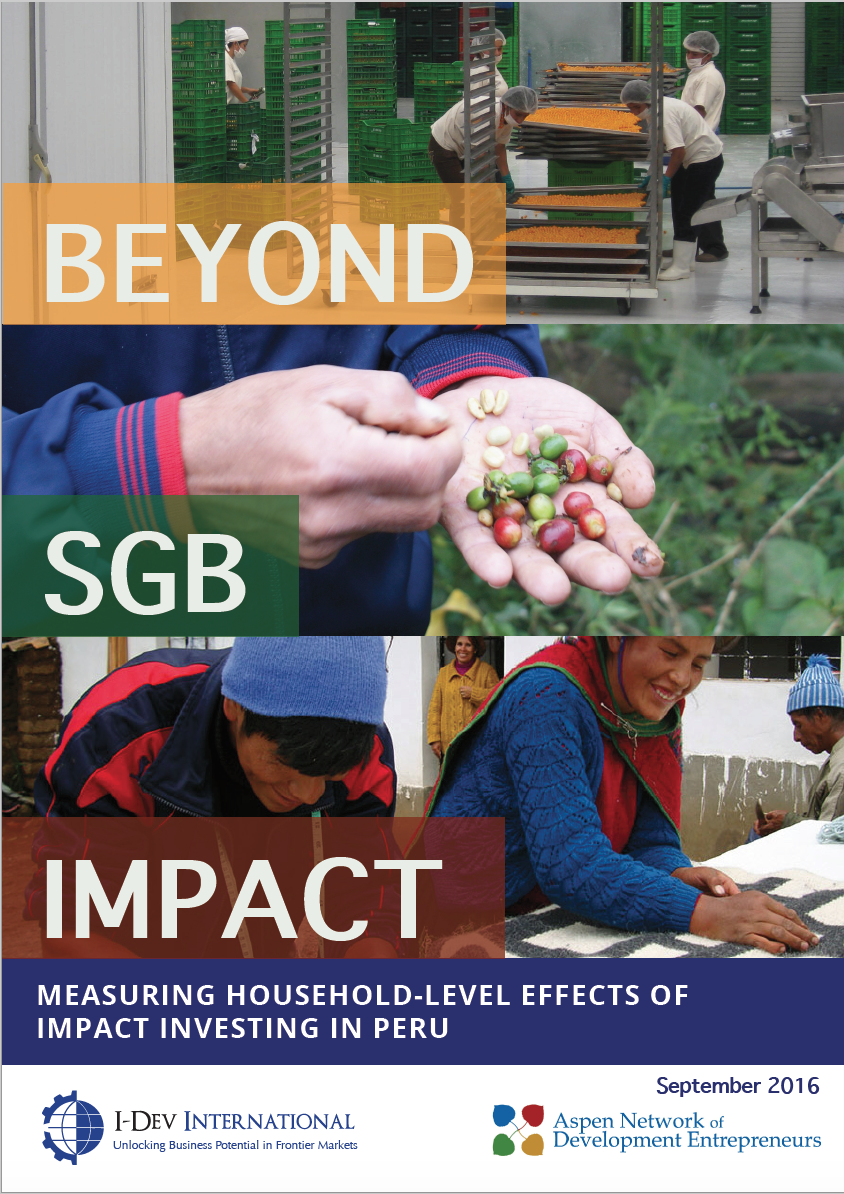 I-DEV & ANDE Beyond SGB Impact Report
September 2015 - 2016
In a joint initiative with the Aspen Network of Development Entrepreneurs (ANDE) and the Bernard Van Leer Foundation (BVLF), I-DEV conducted a multi-year, research-based analysis to evaluate the impact that investing in small and growing businesses (SGBs) has in reducing poverty and improving the quality of life of families in the base of the pyramid. The report examines three key productive export sectors in Peru –goldenberry, coffee, and handicrafts– and provides a replicable methodology with suggested quantitative and qualitative indicators for measuring the BoP household-level impact of SGBs globally.
---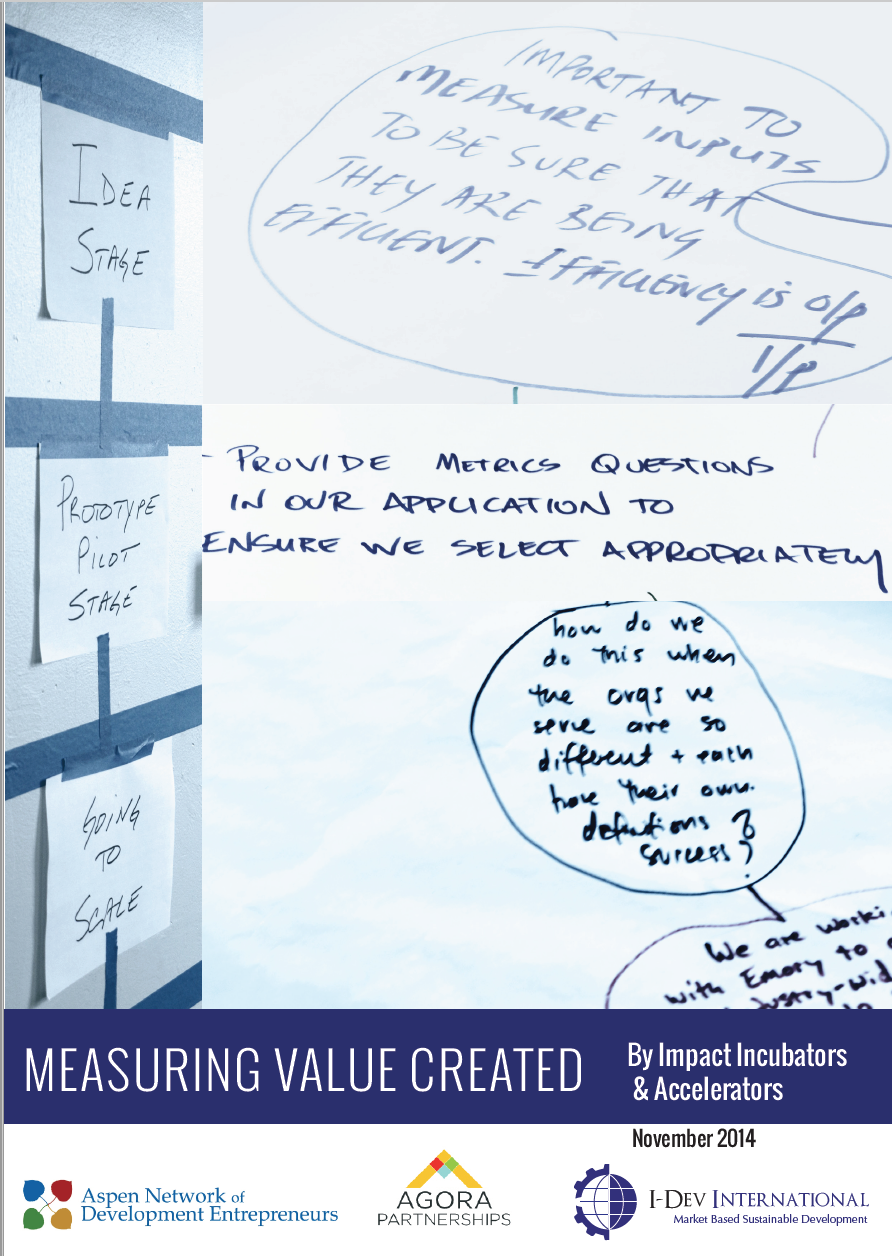 I-DEV & ANDE Incubator Report: Measuring Value Created
November 2014
In collaboration with the Aspen Network of Development Entrepreneurs (ANDE) and Agora Partnerships, I-DEV conducted an analysis of the value-created by emerging markets incubator and accelerator programs. Findings are from interviews with program alumni across 9 leading programs and related investors. Next steps and needed metrics to track program impact are provided. 
---